2021-2022 Academic Catalog
[ARCHIVED CATALOG]
2021-2022 Academic Catalog
---

Our Spotlight Feature:
Getting ready to celebrate our 125th Commencement at BSC!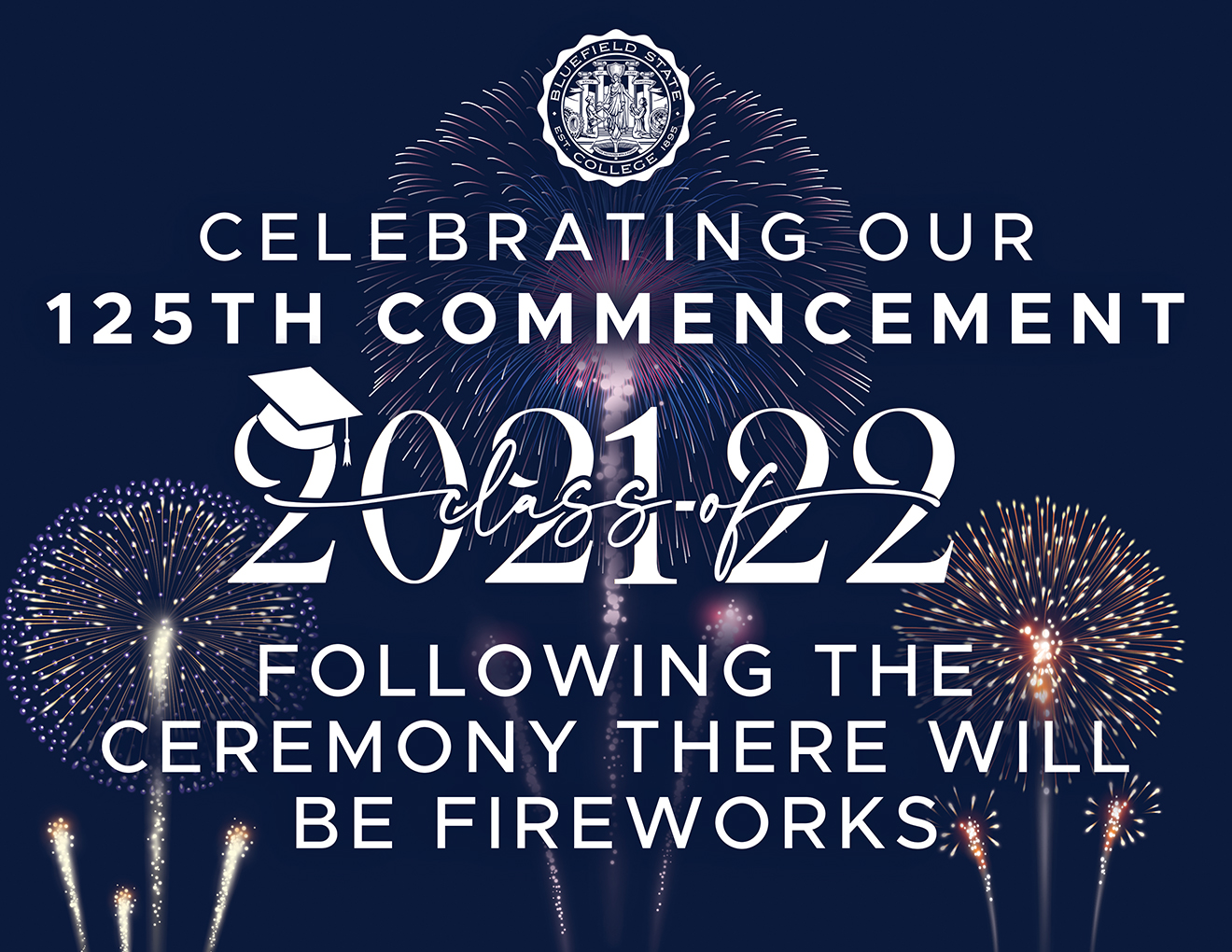 Correspondence Directory
To be assured of a prompt reply, correspondence should be addressed as indicated below
Bluefield State College
219 Rock Street
Bluefield, West Virginia 24701-2198
Telephone: (304) 327-4000
WV Residents 1(800) 344-8892
Out of State 1(800) 654-7798
Fax (304) 325-7747
Website www.bluefieldstate.edu
Correspondence should be addressed as follows:
| | |
| --- | --- |
| Chief Administrator | President |
| Academic Matters | Provost/Vice President for Academic & Student Affairs |
| Admissions | Director of Admissions |
| Student Affairs Matters | Provost/Vice President for Academic & Student Affairs |
| Athletics | Director of Athletics |
| Fees | Vice President for Financial and Administrative Affairs |
| Financial Aid | Director of Financial Aid |
| Job Placement | Director of Career Services |
| Registration and Transcripts | Registrar |
Catalog Adherence Policy
Bluefield State College reserves the right to change, delete, supplement or otherwise amend at any time the information, course offerings, degree requirements, rules, and policies contained herein without prior notice. Changes shall go into effect whenever the proper authorities so determine and shall apply to both present and prospective students. It is the student's responsibility to secure a catalog and comply with college policies.
Equal Opportunity Policy
It shall be the policy of Bluefield State College to provide equal employment opportunities to all qualified employees and applicants and to prohibit discrimination or harassment against any such individuals on the basis of protected characteristics. The College considers race, color, religion, creed, political belief or affiliation, sex, national origin, age, mental or physical disability, genetic information, sexual orientation, marital status, gender identity and expression, and veteran status as protected characteristics and will not permit discrimination or harassment against any employee or applicant for employment on the basis of any such characteristic. The College will conform both to the letter and the spirit of the law and regulations with respect to prohibiting any such discrimination or harassment and will engage in affirmative action to employ, advance in employment and treat all qualified persons without discrimination in any employment practices. Full language for Bluefield State College Policy No. 55 "Equal Opportunity and Affirmative Action" may be found at https://bluefieldstate.edu/resources/human-resources. Inquiries regarding the College's equal opportunity/affirmative action policy may be directed to the Office of Human Resources, Bluefield State College, 219 Rock St., Bluefield, WV 24701.
Copies of the above referenced policy, the Affirmative Action Plan and the Bluefield State College Section 504 Self Evaluation and Transition Plan are available for review in the William B. Robertson Library. Grievance procedures for students are printed in the Bluefield State College Student Handbook and Academic Planner. Accessibility to programs and facilities for disabled students should be directed to the Vice President for Student Affairs and Enrollment Management, Bluefield State College, 219 Rock St., Bluefield, WV 24701.
WE WANT YOUR FEEDBACK ON OUR BSC ACADEMIC CATALOG. LET'S MAKE IT BETTER!  
---